Barista coffee-making course in Melbourne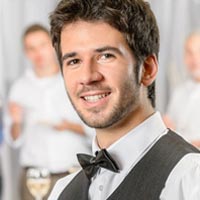 "Why choose the Victorian Bar School"
Free Refresher classes for the first 6 months
We have the best trainers in the industry
Free Job placement
Melbourne is one of the coffee capitals of the world and our unique coffee culture drives an ever increasing demand for skilled baristas to work in the thousands of cafes, bars and restaurants across Melbourne. Our coffee course epitomises our hands on approach to training.
The Victorian Bar School runs premiere coffee courses with a heavy emphasis on hands on learning. Our coffee courses take place in our purpose built coffee room which boasts 8 industry standard double group-head coffee machines. Our barista trainer has a lifetime of experience. He is passionate about coffee and sharing his love of coffee with our students. And the best part of the course is that you will make and drink as many coffees as you can!
Our coffee course starts from the very basics with no assumed knowledge, but before long you will be learning advanced milk texturing, latte art, poured patterns, specialist coffee advice, roasting, blending and much more. Our coffee course is ideal for anyone, whether you are looking to start a career as a barista, or you just want to add to your skill set to make you more attractive to hospitality employers, as more and more venues are starting to offer barista styled coffee to their customers and there is a growing expectation that hospitality staff have barista coffee skills.
Unlike many other theory based coffee courses, where students rotate the use of 1 or 2 coffee machines, our course is hands-on and we guarantee each student their own machine. Our philosophy is that the only way to learn how to make the perfect cup of coffee is to actually make it. Throughout the day students will be grinding their own beans, texturing their own milk and making a number of every different coffee style to suit the needs of every different customer. Upon completion of the course students will be well equipped to work in any cafe and make any coffee order.
What further sets us apart from our competition is our free refresher program, whereby our students are invited to come back to the college within six months of completing their course to practice their coffee making skills, free of charge. Whether you want to brush up on your skills before an interview or just want to hone your coffee art skills, our students find this an invaluable service that makes our coffee courses the best in Melbourne. Further to this, our coffee course students can enrol in our job placement service which links students with employers, free of charge!
This hands-on program is based upon the Nationally Recognised Unit of Competence SITHFAB204 – Prepare and Serve Espresso Coffee. Upon the completion of the course, a non-accredited certificate will be issued detailing what you have learnt.
In order to receive the fully accredited certificate, a level one food handling course must also be completed, which we offer for only $70. If both courses are completed, you will receive an accredited Statement of Attainment for both units.
This barista course in Melbourne covers the following subjects:
Coffee Styles and Types
Espresso Machine Operations
Café Latte
Vienna Coffee
Cappuccino
Macchiato
Spooned & poured patterns
Specialist coffee advice
Latte Art
Advanced milk texturing
At the end of this course candidates will be able to:
Make all the coffees on the coffee menu
Froth textured milk
Adjust grinder and espresso machines to achieve perfect espresso
Clean the machine to maintain perfect espresso
Load group handle and tamp coffee
Etch, fudge art and free pour
---
Course Structure:
One day course, 9am – 3:30pm
---
Course Cost: $185
---
You may also be interested in: