Bartending Course Melbourne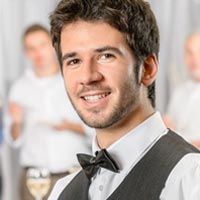 Why choose the Victorian Bar School
We're the oldest and the best – We've been running bar courses for 43 years!
We have outstanding facilities and guarantee you quality practical training
We have day, weekend or evening courses so anytime you're available we can train you
Working behind a bar is incredibly fun and is one of the most abundant jobs available in Melbourne. Whether you're looking for full time work, or just looking for a few shifts while studying, it can be daunting to work behind a bar for the first time, and it can be difficult trying to find work behind the bar without any skills or experience. The Victorian Bar School offers a range of different courses that will give you the skills, the confidence and the qualifications to get work behind the bar. Our courses are comprehensive and will cover everything you need to know from tapping kegs and pouring beers to making cocktails and providing outstanding customer service. Having done the course, you will show employers that you not only have the basic skills to work behind the bar, but you have the right attitude to work behind the bar, which can be just as important.
In addition to learning the essential skills needed to work behind the bar, our Bartending course in Melbourne will also issue you with your RSA Melbourne certificate (SITHFAB002 Provide responsible service of alcohol) which is the qualification you need to serve alcohol in any licensed venue in Victoria. Furthermore, you will be also issued with a National RSA Certificate, which is valid in some states outside of Victoria, so is ideal for travelling!
In addition to the nationally recognised unit of competence listed above, the following part modules are covered (a separate Victorian Bar School Certificate is issued for these subjects):
Advanced Cocktails
Wine Knowledge and Wine Service
Opening and Closing Procedures
Beer Reticulation Systems
Cash Handling
Operate a Bar
Prepare and Serve Cocktails
Non-alcoholic Beverages
Suggestive Selling and Customer Service
Course Options:
| | | | | |
| --- | --- | --- | --- | --- |
| Mode | Schedule | Times | Costs | Frequency |
| Daytime (5 days) | Monday – Friday | 9am – 3pm | $450 | Every Week |
| Evening (2 weeks) | Monday – Wednesday | 6.30pm – 9.30pm | $450 | Monthly |
| 1 Weekend | Saturday & Sunday | 9am – 4.30pm | $350 | Monthly |
| 2 Weekend | Saturday & Sunday | 9am – 4.30pm | $450 | Monthly |
---
You might be eligible for Government Funded
The Victorian Bar School's flagship course is a Certificate II in Hospitality which combines all our course offerings such as cocktail bartending, RSA Melbourne, barista coffee course, RSG Melbourne, restaurant waiting, Food handling and food safety.
We have been delivering these courses for over 20 years and have a proven track record at getting people jobs in the hospitality industry.
This fun and exciting course adopts a "hands on" approach to training, as we believe the best way to learn is to actually do it yourself. This Government Funded Program will give you the skills, the confidence and the Nationally Recognised qualifications to start working in any area of hospitality.
The program includes:
Responsible Service of Alcohol Certificate (RSA Melbourne)
Cocktail Bartending
Barista Coffee Training
Responsible Service of Gambling Certificate(RSG Melbourne)
Follow Workplace Hygiene Procedures (Food Handling)
Food Safety Supervisor Certificate
Silver Service Waiting
And much more!
In order to be eligible for a government funded course, and pay only $150 or $110 for concession for this comprehensive program, you must be:
Australian or New Zealand citizen or Australian Permanent resident; and
Not be enrolled at school; and
Not have commenced, or be scheduled to commence, more than one Victorian Government subsidised courses in 2017 (excluding Apprenticeship qualifications listed on the approved pre-apprenticeships and pathway qualification); and
Not have started more than one government subsided qualification at a certificate III level in your lifetime; and
Either:
under the age of 20 at the 1st January 2017; OR
over the age of 20 and not hold any qualification higher than a Certificate I
Accessing your Skill First Program entitlement may impact your access to further government subsidised training. Maximum of 2 government funded enrolments at each qualification level in your lifetime. For more information please contact reception.
The course runs from 9am-3pm Monday- Friday for 2 weeks. Alternatively there is an evening option which runs from 6:30pm to 9:30am Monday –Thursday for 4 weeks. A final option is available to do the course over the weekend, from 9am-4:30pm Saturday and Sunday over 4 weekends.
Whether you are looking for a career in hospitality or just a part-time job you'll have no better start than by completing this practical, hands on hospitality course! Enrollments must be made in-person at the Bar School. Please call for any more information!
* For full details of our fee structure, please see our Fee Schedule.
People with a disability are encouraged to apply.
---
You may also be interested in: