RSA (Responsible Service of Alcohol) Bar and Bartending Courses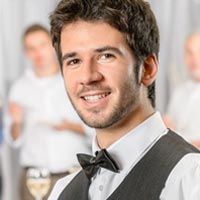 "Why choose the Victorian Bar School?"
We run many classes a week
Melbourne's Cheapest RSA
You can get a VCGLR approved Victorian RSA certificate
In order to work in any licensed venue in Victoria, you must hold an RSA certificate accredited by the VCGLR (Victorian Commission for Gambling and Liquor Regulation). An RSA course at The Victorian Bar School will provide you with a VCGLR RSA Certificate, which is all you need to serve alcohol in any bar, club, restaurant, café, pub or venue that sells alcohol in Victoria.
The Victorian Bar School is the best place to do your RSA course in Melbourne, we have the best trainers and offer the best value in town! Only VCGLR accredited training providers can issue RSA certificates that will legally allow you to serve alcohol in a licensed venue.
The half day program will provide you with the knowledge and skills to ensure that you serve alcohol in a safe and legal way. You will also learn a range of different strategies to help you deal with situations that may arise while serving alcohol. The course covers the following topics:
Strategies for responsible service
Alcohol and the law
Who is responsible Refusal of service
Facts about alcohol
Problems associated with excessive consumption
Course Structure
The RSA course runs for four hours.
We have several courses that run throughout the week. To see upcoming dates or to make a booking for the RSA course please click on the book now button below:
---

---
Are you eligible for a Government Subsidy?
If you are an Australian citizen or permanent resident you may be eligible for our government subsidised course.
Victorian Bar School offers a Certificate IV in Hospitality course from only $79 for eligible candidates that will give teach you the skills to gain employment in Melbourne's hospitality industry.
The course includes:
RSA certificate (Melbourne)
Food handling certificate
Food safety supervisor certificate
Cocktail bartending skills
Barista coffee skills
Restaurant waiting skills
Beer, spirit, liqueur and wine knowledge, including tasting techniques
Leadership, management and operational skills in the hospitality context
First aid certificate
For more information or to see if you're eligible please contact call 03 9654 7277
---
You may also be interested in: