Responsible Service of Gambling Melbourne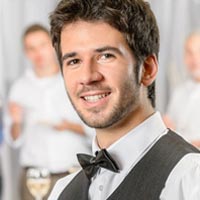 "Why choose the Victorian Bar School"
We run courses every week
We provide you with details instructions on how to get your gaming license.
Nationally Recognised RSG certificate endorsed by the Australian Bartenders Guild and approved by the VCGLR
A Responsible Service of Gambling certificate (RSG Melbourne) is a compulsory legal certification required of anyone working in a gaming venue during hours of operation.
Australia has a thriving gaming industry, which is in constant need of new and qualified staff. As more and more venues are extending their opening times to 24 hours, there are countless jobs available with the hours to suit you.
This program provides you with the nationally recognised unit of competence:
SITHGAM201 – Provide Responsible Gambling Services – more commonly referred to as RSG Melbourne, will equip you with the skills, knowledge and qualification to work in a gaming venue, and will teach you strategies and actions to deal with situations that could arise in a gaming venue. This course has been approved by the VCGLR (Victorian Commission for Gambling and Liquor Regulations).
The course will cover the following range of topics
• Counselling Techniques
• Procedures in relation to barring of customers
• Social Impacts
• Problem Gamblers
• Formal Procedures
• State & Territory Legislation
Course Structure: 10am – 1pm, every second Friday
Course Cost: $70
---
You may also be interested in: